Thank you! for being a part of us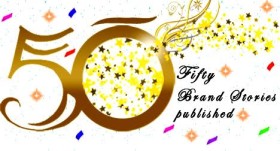 How do I start this note of thanks?
Hi, Hello or Howdy …however you like
A little less than a year ago we have started this blog.. our subject was fixed at first sight.. thought of sharing with you what we know and what we do; BRANDS.. Did research too to enhance the info made available to you.. We marked every Friday to show-up a new brand's story before our world.
We looked at the world's well-known brands and started with the world's most valuable brand; Apple.. Reasoning the phrase 'An apple a day keeps the doctor away', some in the community pinged, "I wonder what happens if a doctor's wife eats an apple a day?" Someone replied "I will stay at Adam's apple garden then".. Jokes apart, we published stories of 26 brands which were starting with each alphabet of English in order.. 'Apple' for A, 'BMW' for B… and so on.. 'Zara' for Z. Then week by week added another 24 to the lot.. so we released the 50th Brand Story last week about the brand 'Wikipedia'.
It was a ludicrous trekking so far.. it was not a footslog, but was not a cakewalk too.. journey started as amateur and got matured on the way.. we try travel the road less traveled.. we met many on the road.. shared likes, smiles and created some waves in few creative minds. With fullness felt right from the start point, much of our experiences are left to be remembered in our memory lane now..
We received enormous response, appreciation, suggestions and advice too.. Yes, we received the pulse from every continent.. from much many countries on the globe.. We are sure that our posts did not get lost in the ocean of internet.. a Big thank you!
Hey, time to conclude.. we are taking a break now.. meanwhile we will look into each of the suggestions to create our road-map for our expedition ahead.. see ya soon!
Grateful to you for sharing a part of your life with us.. and for being a part of us.
– @Rah community
Important: All Intellectual Properties referred on this website are absolutely owned by their respective owners.
One Response to "Thank you! for being a part of us"
Leave a Reply
Do you have a Brand Story to say? Register, Login and post your article.